FREE shipping worldwide for orders $300+
These unique makeup brush pouches are made of tatami-beri, the decorative trimming that runs along the long edge of tatami mats. The fabric is a traditional and treasured part of Japanese culture.  
Please note, some Koyudo brushes are handmade to order so may take up to 1 week to ship. If you have a question about a specific product, please contact support@fudebeauty.com
FREE Shipping offer
Purchases of $300+ USD receive FREE worldwide shipping.


Shipping for orders under $300 USD
USA, Canada, Europe (excl. Russia): $25 (FedEx, EMS), $30 (DHL)
Asia: $15 (EMS), $20 (DHL/FedEx)
Oceania: $20 (FedEx, EMS), $25 (DHL)
Mexico, South and Central America: $40 (DHL/FedEx)
Middle East: $25 (EMS), $40 (DHL)
All other regions: $40 (DHL/FedEx)
DHL/FedEx vs EMS 
DHL/FedEx do not ship to bases or PO Boxes
DHL/FedEx are typically faster shipping than EMS, but may result in higher taxes and duties fees (you can find more on Taxes and Duties below)
Domestic shipping fees
Please note, product purchased within Japan are subject to a 10% consumption tax.
Under $100: 1,080 yen (tax included) via Sagawa
Over $100: FREE via Japan Post, $30 via EMS


TAXES & DUTIES 
You may be subject to import taxes and duties on delivery, depending on the country. These fees are not included in Fude Beauty product prices or shipping charges, so please be sure to find out the policy for the country you are shipping to. While these fees are not reimbursed by Fude Beauty, we can provide a discount for future purchases. If you are charged taxes or duties fees, please contact us via our Contact page or by email at support@fudebeauty.com with your the receipt of your fees.


For more details, please see:
LEARN MORE ABOUT JAPANESE FUDE
Customer Reviews
01/01/2022
Tracy

United States
Perfect for travel-size fude
I purchased the Black Plum version to protect my Chikuhodo Makie travel brushes. The size is perfect, and it fits nicely in one of my purse pockets, making it easy to find when I need to touch up. Although it's not a necessary item, I prefer this over having my nice fude bouncing around in my makeup bag.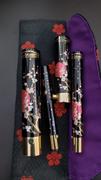 12/16/2021
Mary S.

United States
Nice pouch for travel
Great travel pouch for brushes. Good quality and sturdy.
12/13/2021
Sadie

New Zealand
Nice fit for fude
Adorable, silky, and sturdy - everything you'd want from a little kimono-fabric brush case. I got two as gifts and one for me. These are 17 cm long, 5.5 cm wide, well sized for Japanese fude, especially the smaller eye and lip brushes. I am keeping the red plum one for myself, and it has a purple lining. It would be very pleasant if a larger size of these was available.
07/20/2021
viki P.

Bulgaria
Excellent product.
This is a great product. I repurchased and bought as a gift as well. It has a great luxurious feel and is very practical and easy to use.
06/29/2021
viki P.

Bulgaria
Koyudi Tatami Fabric Pouch
I bought two pouches and they are extremely functional. The fabric is very luxurious to the feel and touch and I recommend them greatly for every female purse. I will definitely purchase again.