FREE Shipping for orders ¥40,000+ Worldwide
Koyomo brushes are made with aged goat bristles ('ko' means old, 'yomo' means goat) dating back to the 1970s. Extremely rare and difficult to obtain these days, Koyomo boasts the largest stock in the world. These bristles are revered for their particularly & smooth texture, durability and luminescence.
Details
Brush length: 124mm (approx)
Bristle length: 49mm (approx)
Bristle material: Koyomo Outotsu goat
Please note, Koyomo brushes may take 1-2 weeks to ship as they are handmade to order.
The contrast between the pearl pink handles and lustrous white bristles of the Pearl Pink Nadeshiko Series is soft and feminine, and make these brushes a treasure to own.

FREE SHIPPING OFFER
Purchases of ¥40,000+ receive FREE worldwide shipping.
ORDERS UNDER ¥40,000
• Asia from ¥1,600
• Oceania from ¥3,050
• North America, Canada & Mexico from ¥2,400
• Europe from ¥2,800
• Middle East from ¥3,250
• All other countries ¥3,700
Please note:
• Customers in Russia will need a business address to ship to.
• If a customer is in a remote location that requires extra shipping fees to be paid by Fude Beauty to DHL/FedEx/UPS, then these fees will need to be covered by the customer. 
DHL/FedEx/UPS vs EMS
• DHL/FedEx/UPS do not ship to bases or PO Boxes
• DHL/FedEx/UPS are typically faster shipping than EMS, but may result in higher taxes and duties fees (you can find more on Taxes and Duties below)
TAXES & DUTIES
You may be subject to import taxes and duties on delivery, depending on the country. While these fees are not reimbursed by Fude Beauty, we can provide a discount for future purchases if the taxes you incur on one purchase exceed ¥3,000. If you are charged taxes or duties fees, please contact us via our Contact page or by email at support@fudebeauty.com with your the receipt of your fees. 
Domestic shipping fees
Under ¥15,000: ¥1,080 (via Sagawa)
Over ¥15,000: FREE (via EMS) 
For more details, please see:
Orders & Shipping
Returns & Exchanges
LEARN MORE ABOUT JAPANESE FUDE
Customer Reviews
05/10/2022
Shelly S.

United States
Hidden Gem!
I hesitated to buy this set of brushes for a long time. I already have a large selection of goat hair powder brushes and most reviews I've read on this make it sound less than stellar. From it being to airy and floppy to not that soft. This is yet another prime example not to let reviews scare you off. Always decide for yourself because unfortunately there are many uneducated or misinformed people leaving those reviews. This powder brush (at least mine anyhow) is far from floppy. I was actually blown away by the density of it. Once washed it blooms beautifully and has a nice spring to it. It's also much softer than I had imagined it to be. It's just as soft as some of my Saikoho brushes making it an absolute pleasure to use. This is a hidden gem of a brush. Well made, sturdy with soft high quality goat hair. Worth every penny. Shown with Bisyodo Short Series Round Powder brush for size reference.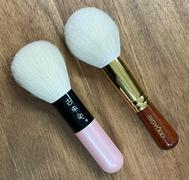 03/11/2022
Phyllis R.

United States
A soft brush
The bristles on the brush are very soft and luxurious. The small size makes it a great multi tasking brush to use with your products, powder, contour, blush powders. It's also a handy size to travel with because it won't take up too much space.