FREE shipping worldwide for orders $300+
This highlighting brush features a precisely shaped tip, so you can apply an overall flush of highlight with confidence.
Bristle material: Saikoho goat hair 
Bristle shape: Candle
Bristle length: 38mm
Please note, due to the handmade nature of these brushes, dimensions may vary slightly.
Loose powder, pressed powder products
The Takumi series are made with the highest quality Saikoho goat hair, which is left un-dyed to bring out the feeling of the original texture, and keep the luminous white hue. The light and soft touch of the bristles feels like a gentle embrace for skin.

FREE Shipping offer
Purchases of $300+ USD receive FREE worldwide shipping.


Shipping for orders under $300 USD
USA, Canada, Europe (excl. Russia): $25 (FedEx, EMS), $30 (DHL)
Asia: $15 (EMS), $20 (DHL/FedEx)
Oceania: $20 (FedEx, EMS), $25 (DHL)
Mexico, South and Central America: $40 (DHL/FedEx)
Middle East: $25 (EMS), $40 (DHL)
All other regions: $40 (DHL/FedEx)
DHL/FedEx vs EMS 
DHL/FedEx do not ship to bases or PO Boxes
DHL/FedEx are typically faster shipping than EMS, but may result in higher taxes and duties fees (you can find more on Taxes and Duties below)
Domestic shipping fees
Please note, product purchased within Japan are subject to a 10% consumption tax.
Under $100: 1,080 yen (tax included) via Sagawa
Over $100: FREE via Japan Post, $30 via EMS


TAXES & DUTIES 
You may be subject to import taxes and duties on delivery, depending on the country. These fees are not included in Fude Beauty product prices or shipping charges, so please be sure to find out the policy for the country you are shipping to. While these fees are not reimbursed by Fude Beauty, we can provide a discount for future purchases. If you are charged taxes or duties fees, please contact us via our Contact page or by email at support@fudebeauty.com with your the receipt of your fees.


For more details, please see:
LEARN MORE ABOUT JAPANESE FUDE
Customer Reviews
06/05/2021
Ruth M.

United States
You Need This Brush!
The beauty of this brush is it's multi-tasking abilities. Due to the oval pinched ferule, I can use it for setting the undereye area, turned on one side, it works great for contour and on the other edge, blush. The softness is the other thing I love so much!
05/04/2021
Cc

United States
Multitasker
As other reviewers mentioned, this is a multitasker. You can use it for anything and everything face. I've washed it couple of times and it holds its shape well. Such a keeper.
04/20/2021
K.M.K

Singapore
Precise Shape
The beautifully precise candle shape of this brush makes it very versatile. The pointed tip makes it ideal for applying undereye powder and highlight. But this brush can easily be used for more targeted blush application as well. Picks up and grips loose powders well too. I do keep it in a brush guard to maintain that lovely shape. The brush itself has a lightweight construction but is so balanced.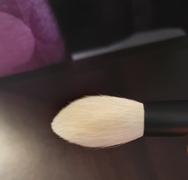 03/14/2021
Inn C.

Malaysia
Perfect highlighter brush
I am very happy with my purchase of this brush. Picks up the right amount of pigment for beautiful highlight application. Great brush
09/24/2020
Jill G.

United States
T-5
This is such a fabulous multi functional brush. I use this for so many different parts of my makeup application. I have used it for powders under the eyes and all over the face. I have used it for bronzers and blush. This is a work horse type of brush that you can count on!!!