FREE Shipping for orders ¥40,000+ Worldwide
This eyeshadow brush is dedicated to easy, smooth application of eyeshadow by focusing on shape of the bristle tip. The volume of the bristle makes it the ideal brush for even application and natural gradation. Enjoy the soft, airy touch of this brush. Eyelids will brighten up in beautiful colors with this Eyeshadow brush.
Details
Bristle material: Sokoho Goat 
Bristle shape: Flat-tapered
Bristle length: 16mm
Total length: 125mm
Chikuhodo's Passion Series combines premium goat, weasel and water-badger hair bristles with glossy magenta handles. The series symbolizes a passion for beauty and a desire to allure.

FREE SHIPPING OFFER
Purchases of ¥40,000+ receive FREE worldwide shipping.
ORDERS UNDER ¥40,000
• Asia from ¥1,600
• Oceania from ¥3,050
• North America, Canada & Mexico from ¥2,400
• Europe from ¥2,800
• Middle East from ¥3,250
• All other countries ¥3,700
Please note:
• Customers in Russia will need a business address to ship to.
• If a customer is in a remote location that requires extra shipping fees to be paid by Fude Beauty to DHL/FedEx/UPS, then these fees will need to be covered by the customer. 
DHL/FedEx/UPS vs EMS
• DHL/FedEx/UPS do not ship to bases or PO Boxes
• DHL/FedEx/UPS are typically faster shipping than EMS, but may result in higher taxes and duties fees (you can find more on Taxes and Duties below)
TAXES & DUTIES
You may be subject to import taxes and duties on delivery, depending on the country. While these fees are not reimbursed by Fude Beauty, we can provide a discount for future purchases if the taxes you incur on one purchase exceed ¥3,000. If you are charged taxes or duties fees, please contact us via our Contact page or by email at support@fudebeauty.com with your the receipt of your fees. 
Domestic shipping fees
Under ¥15,000: ¥1,080 (via Sagawa)
Over ¥15,000: FREE (via EMS) 
For more details, please see:
Orders & Shipping
Returns & Exchanges
LEARN MORE ABOUT JAPANESE FUDE
Customer Reviews
Write a Review
Ask a Question
07/14/2022
Thi

Australia
Amazing little brush
Very multi functional eye shadow brush Holds it's shape well Picks up eye shadow products like a dream Blending was effortless with this brush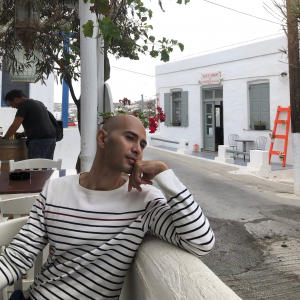 T
04/01/2021
Tor

Philippines
So soft, yet so versatile!
I fell in love with this brush when I bought the Chikuhodo Soiree 3-Piece Brush set last December 2020. One of the pieces on that set was a reincarnation of the PS-4. It was because of that experience that I started to look for the same brush on the site. What I love about the PS-4 is the brush head design. Depending on how you hold it or on how you load the brush with color, it enables you to apply a well diffused/well blended amount of eyeshadow on the lids or a much more defined application of color. In my opinion, I love using this brush with matte/satin eyeshadow colors. This brush picks up and delivers the correct amount of pigments extremely well. This brush can also pick up glitter eyeshadows BUT it will deliver a very delicate finish - not a high impact kind of glitter eye shadow look. I use this brush to apply color all the eye lids, the crease of the eye, on the brow bone and even some highlighter on the high points of the cheek bones. This brush has become part of my core brush set.