FREE Shipping for orders ¥40,000+ Worldwide
This brush is designed to help you buff any makeup powder with ease, and to perfection. Feel the light and comforting touch of bristle, made of a high-quality Sokoho goat hair. The volume and the round shape of this brush's bristle are perfect for applying cheek makeup.

Details
Bristle material: Sokoho Goat 
Bristle shape: Round
Bristle length: 35mm
Total length: 145mm
Chikuhodo's Passion Series combines premium goat, weasel and water-badger hair bristles with glossy magenta handles. The series symbolizes a passion for beauty and a desire to allure.

FREE SHIPPING OFFER
Purchases of ¥40,000+ receive FREE worldwide shipping.
ORDERS UNDER ¥40,000
• Asia from ¥1,600
• Oceania from ¥3,050
• North America, Canada & Mexico from ¥2,400
• Europe from ¥2,800
• Middle East from ¥3,250
• All other countries ¥3,700
Please note:
• Customers in Russia will need a business address to ship to.
• If a customer is in a remote location that requires extra shipping fees to be paid by Fude Beauty to DHL/FedEx/UPS, then these fees will need to be covered by the customer. 
DHL/FedEx/UPS vs EMS
• DHL/FedEx/UPS do not ship to bases or PO Boxes
• DHL/FedEx/UPS are typically faster shipping than EMS, but may result in higher taxes and duties fees (you can find more on Taxes and Duties below)
TAXES & DUTIES
You may be subject to import taxes and duties on delivery, depending on the country. While these fees are not reimbursed by Fude Beauty, we can provide a discount for future purchases if the taxes you incur on one purchase exceed ¥3,000. If you are charged taxes or duties fees, please contact us via our Contact page or by email at support@fudebeauty.com with your the receipt of your fees. 
Domestic shipping fees
Under ¥15,000: ¥1,080 (via Sagawa)
Over ¥15,000: FREE (via EMS) 
For more details, please see:
Orders & Shipping
Returns & Exchanges
LEARN MORE ABOUT JAPANESE FUDE
Customer Reviews
Write a Review
Ask a Question
07/14/2022
Thi

Australia
Great little powder brush
Great beginners brush and lovely to have in my collection Minimal- non shredding when cleaned Pick up powder products very well and deposit it very nicely on the face
12/29/2021
Jennifer S.

Philippines
Passion series PS 2
Great blush brush.
05/25/2021
Marjie

United States
Beautiful Little Brush
I do love the color of this brush & it is soft. It is simple to use, picks up product well & applies nicely.
04/21/2021
K.M.K

Singapore
Good Brush for Fude Beginners
I've been really enjoying the shape and build of the PS-2. If you are new to Fude and want a brush that is not too exorbitant price-wise but still delivers excellent performance, this is the brush for you. The dyed Sokoho goat bristles are very soft and has a beautifully rounded shape. Bristles are also quite flexible, which means it covers a larger surface area in one sweep. I wouldn't use the brush for targeted blush application. I prefer to use this brush with pigmented blushes to diffuse the intensity of the colour. With more natural blush shades, I do need to sweep the pan a few times to get colour payoff. I enjoy using the brush in soft circular motions on the cheek.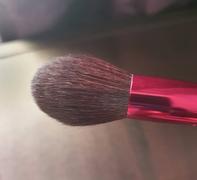 01/10/2021
Megan

United States
Perfect blush brush
This is such a nice, soft brush. It gives the lightest, most natural look. It picks up powder well and doesn't disturb any makeup during application.