FREE shipping worldwide for orders $300+ (USD)
This brush is designed to help you buff any makeup powder with ease, and to perfection. Feel the light and comforting touch of bristle, made of a high-quality Sokoho goat hair. The volume and the round shape of this brush's bristle are perfect for applying cheek makeup.

Details
Bristle material: Sokoho Goat 
Bristle shape: Round
Bristle length: 35mm
Total length: 145mm
Chikuhodo's Passion Series combines premium goat, weasel and water-badger hair bristles with glossy magenta handles. The series symbolizes a passion for beauty and a desire to allure.

Please note, as of 1 March 2022, we are currently unable to ship to Russia, Belarus and Ukraine, and EMS services have been temporarily suspended for all of Europe.
FREE Shipping offer
Purchases of $300+ USD receive FREE worldwide shipping.


Shipping for orders under $300 USD
USA, Canada, Europe (excl. Russia): $25 (FedEx, EMS), $30 (DHL)
Asia: $15 (EMS), $20 (DHL/FedEx)
Oceania: $20 (FedEx, EMS), $25 (DHL)
Mexico, South and Central America: $40 (DHL/FedEx)
Middle East: $25 (EMS), $40 (DHL)
All other regions: $40 (DHL/FedEx)
DHL/FedEx vs EMS 
DHL/FedEx do not ship to bases or PO Boxes
DHL/FedEx are typically faster shipping than EMS, but may result in higher taxes and duties fees (you can find more on Taxes and Duties below)
Domestic shipping fees
Please note, product purchased within Japan are subject to a 10% consumption tax.
Under $100: 1,080 yen (tax included) via Sagawa
Over $100: FREE via Japan Post, $30 via EMS


TAXES & DUTIES 
You may be subject to import taxes and duties on delivery, depending on the country. These fees are not included in Fude Beauty product prices or shipping charges, so please be sure to find out the policy for the country you are shipping to. While these fees are not reimbursed by Fude Beauty, we can provide a discount for future purchases. If you are charged taxes or duties fees, please contact us via our Contact page or by email at support@fudebeauty.com with your the receipt of your fees.


For more details, please see:
LEARN MORE ABOUT JAPANESE FUDE
Customer Reviews
12/29/2021
Jennifer S.

Philippines
Passion series PS 2
Great blush brush.
05/25/2021
Marjie

United States
Beautiful Little Brush
I do love the color of this brush & it is soft. It is simple to use, picks up product well & applies nicely.
04/21/2021
K.M.K

Singapore
Good Brush for Fude Beginners
I've been really enjoying the shape and build of the PS-2. If you are new to Fude and want a brush that is not too exorbitant price-wise but still delivers excellent performance, this is the brush for you. The dyed Sokoho goat bristles are very soft and has a beautifully rounded shape. Bristles are also quite flexible, which means it covers a larger surface area in one sweep. I wouldn't use the brush for targeted blush application. I prefer to use this brush with pigmented blushes to diffuse the intensity of the colour. With more natural blush shades, I do need to sweep the pan a few times to get colour payoff. I enjoy using the brush in soft circular motions on the cheek.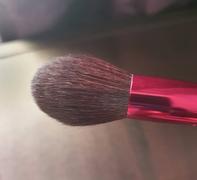 01/10/2021
Megan

United States
Perfect blush brush
This is such a nice, soft brush. It gives the lightest, most natural look. It picks up powder well and doesn't disturb any makeup during application.
Cute soft brush
This brush is beautiful and feels very soft in the cheeks. My blush has never looked so natural and airbrushed.