FREE shipping worldwide for orders $300+
Elegant and compact, this brush is packed with undyed sokoho goat hairs with a density that feels like velvet on your skin. The domed shape gives excellent coverage to pores and creates a smooth, even finish. Use this brush with powder, liquid, and cream makeup.
Hair: Sokoho Goat 
Bristle shape: Round
Bristle length: 30mm
Total length: 125mm
Loose powder, pressed powder, cream, liquid products
FREE Shipping offer
Purchases of $300+ USD receive FREE worldwide shipping.


Shipping for orders under $300 USD
USA, Canada, Europe (excl. Russia): $25 (FedEx, EMS), $30 (DHL)
Asia: $15 (EMS), $20 (DHL/FedEx)
Oceania: $20 (FedEx, EMS), $25 (DHL)
Mexico, South and Central America: $40 (DHL/FedEx)
Middle East: $25 (EMS), $40 (DHL)
All other regions: $40 (DHL/FedEx)
DHL/FedEx vs EMS 
DHL/FedEx do not ship to bases or PO Boxes
DHL/FedEx are typically faster shipping than EMS, but may result in higher taxes and duties fees (you can find more on Taxes and Duties below)
Domestic shipping fees
Please note, product purchased within Japan are subject to a 10% consumption tax.
Under $100: 1,080 yen (tax included) via Sagawa
Over $100: FREE via Japan Post, $30 via EMS


TAXES & DUTIES 
You may be subject to import taxes and duties on delivery, depending on the country. These fees are not included in Fude Beauty product prices or shipping charges, so please be sure to find out the policy for the country you are shipping to. While these fees are not reimbursed by Fude Beauty, we can provide a discount for future purchases. If you are charged taxes or duties fees, please contact us via our Contact page or by email at support@fudebeauty.com with your the receipt of your fees.


For more details, please see:
LEARN MORE ABOUT JAPANESE FUDE
Customer Reviews
11/22/2021
Phyllis R.

United States
A BRUSH YOU DEFINITELY WILL LOVE
I've just been introduced to Fude brushes and this brush is one that everyone needs in their makeup application. You can use it for liquids or powders and it doesn't irritate your skin. I only wish that I had known about this brush much sooner, because it's absolutely worth it.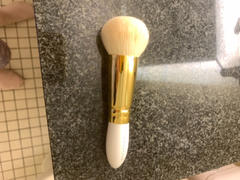 11/10/2021
amy m.

United States
I would buy it again
This is the best brush ever.. for applying liquid products. The length of the handle is short but in this case it does not bother me, I love it and the softness level of the brush is just right, feels like velvet on your skin. Blessed be the hands and minds that created this little marvel.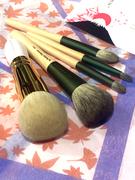 11/01/2021
Anett

United Kingdom
Perfection
The brush is the best for using my powder foundation, the application is even and the results are flawless. The density and softness of the bristles are gentle enough so during application my sensitive rosacea skin does not get irritated. Due to its handy size the brush fits nicely in my makeup pouch in my bag. Such a versatile and durable brush.
10/27/2021
Joanna

United Kingdom
This puff brush is AMAZING!
It perfectly imitates BB sponge, works great with cream /liquid as well as loose/pressed products. A dream come true for a big fan of BB sponge. Soft, compact but not too dense. Easy to clean and has the perfect handle length. Definitely one of the best foundation brushes.
10/08/2021
Julia

Slovakia
Soft foundation brush
Very nice foundation brush, perfect to alternate between the Bisyodo Puffy and Houkodou Bz-1.