FREE shipping worldwide for orders $300+
Chikuhodo's P-8 Powder Brush is known for its long, extremely soft bristles, as well as being a very rare - it's made in limited quantities as it's so time-consuming to produce. It glides across your face like pure silk, and doesn't miss a beat with powder application. Just heavenly. 


Details
Hair: Gray squirrel

Bristle shape: Flat, round
Bristle length: 63mm
Total length: 185mm
FREE Shipping offer
Purchases of $300+ USD receive FREE worldwide shipping.


Shipping for orders under $300 USD
USA, Canada, Europe (excl. Russia): $25 (FedEx, EMS), $30 (DHL)
Asia: $15 (EMS), $20 (DHL/FedEx)
Oceania: $20 (FedEx, EMS), $25 (DHL)
Mexico, South and Central America: $40 (DHL/FedEx)
Middle East: $25 (EMS), $40 (DHL)
All other regions: $40 (DHL/FedEx)
DHL/FedEx vs EMS 
DHL/FedEx do not ship to bases or PO Boxes
DHL/FedEx are typically faster shipping than EMS, but may result in higher taxes and duties fees (you can find more on Taxes and Duties below)
Domestic shipping fees
Please note, product purchased within Japan are subject to a 10% consumption tax.
Under $100: 1,080 yen (tax included) via Sagawa
Over $100: FREE via Japan Post, $30 via EMS


TAXES & DUTIES 
You may be subject to import taxes and duties on delivery, depending on the country. These fees are not included in Fude Beauty product prices or shipping charges, so please be sure to find out the policy for the country you are shipping to. While these fees are not reimbursed by Fude Beauty, we can provide a discount for future purchases. If you are charged taxes or duties fees, please contact us via our Contact page or by email at support@fudebeauty.com with your the receipt of your fees.


For more details, please see:
LEARN MORE ABOUT JAPANESE FUDE
Customer Reviews
05/31/2021
dordor

Hong Kong
Best and softest powder brush
This is the softest powder brush I owned and I am not regret to get it.
11/22/2020
Derrick M.

United States
Have you ever felt fairies dance on your face?
That's seriously how it feels sweeping and buffing these insanely long and densely packed squirrel bristles across my face. I wouldn't qualify this brush as a "must have" tool for daily makeup application routines but certainly consider it well worth the splurge if you are a collector or looking for something extra special. It's an experience, really, and not a work-horse brush. This is one of those brushes that performs best as a finisher, that final step that beautifully and seamlessly brings everything together after its all been applied. And it does one job REALLY well: giving you that last kiss before heading out the door.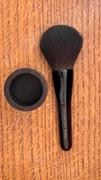 09/21/2020
Yinguo L.

United States
unreal soft
this brush is amazingly soft and beautiful love it so so so much!
07/30/2020
Ma V.

United Arab Emirates
Like brushing a cloud on your skin
I bit the bullet on this brush when it came back in stock and i have no regrets. it's an incredibly soft brush with very long bristles. I am careful with it, due to the fragility of the bristles, and its a bit on the floppy side. I mainly use it for applying a sheer layer of finishing powder and it excels at this. I find the wood they used on the handle to be exceptionally beautiful. Its also feels solid and balanced in the hand, its not too light and it has a good weight to to it. The dark wood grain is elegant to look at and matches the holder perfectly. Shipping from Fudebeauty was fast and hassle free. i received it within a week of ordering. A very pleasant experience overall and looking forward to acquiring more beautiful fude from Fudebeauty.com
07/17/2020
Eka R.

United States
Pure luxury
Gorgeous softest brush ever! Amazing for powder products, especially for the final buff of facial powder. So happy with it !