FREE shipping worldwide for orders $300+
The powder adheres tightly and smoothly to skin, to produce a uniform finish.
Bristle material: Silver Fox
Shape: Round-flat 
Full length: 155mm
Hair length: 45mm 

Loose power, pressed powder products
The FO Series is the industry's first natural makeup brush made with silver fox bristles. The softness is comparable to gray squirrel, but with more resilience and elasticity. Encasing the bristles is an elegant olive tinted aluminum ferrule, with a hard maple wood handle that rests smoothly in your hand.

FREE Shipping offer
Purchases of $300+ USD receive FREE worldwide shipping.


Shipping for orders under $300 USD
USA, Canada, Europe (excl. Russia): $25 (FedEx, EMS), $30 (DHL)
Asia: $15 (EMS), $20 (DHL/FedEx)
Oceania: $20 (FedEx, EMS), $25 (DHL)
Mexico, South and Central America: $40 (DHL/FedEx)
Middle East: $25 (EMS), $40 (DHL)
All other regions: $40 (DHL/FedEx)
DHL/FedEx vs EMS 
DHL/FedEx do not ship to bases or PO Boxes
DHL/FedEx are typically faster shipping than EMS, but may result in higher taxes and duties fees (you can find more on Taxes and Duties below)
Domestic shipping fees
Please note, product purchased within Japan are subject to a 10% consumption tax.
Under $100: 1,080 yen (tax included) via Sagawa
Over $100: FREE via Japan Post, $30 via EMS


TAXES & DUTIES 
You may be subject to import taxes and duties on delivery, depending on the country. These fees are not included in Fude Beauty product prices or shipping charges, so please be sure to find out the policy for the country you are shipping to. While these fees are not reimbursed by Fude Beauty, we can provide a discount for future purchases. If you are charged taxes or duties fees, please contact us via our Contact page or by email at support@fudebeauty.com with your the receipt of your fees.


For more details, please see:
LEARN MORE ABOUT JAPANESE FUDE
Customer Reviews
01/22/2022
ML

United States
Plush and squishy
Brushes pictured were washed and dried for a day without brush guards, then put in brush guards for a day or two only- took off and kept brush guards off to set out in my brush cup for daily use. Plush is something you hear a lot with these fox hair brushes, but squishable is a word that I would also associate with this line and never thought I would use to describe makeup brushes. Yes they are soft and silky bristles, but they have texture on them that helps you pick up the product, more heavily than squirrel does but not as much as sokoho goat. I love how these brushes bounce against the skin when using the edges of the bristles to pounce product. I love how fluffy they are for setting powder all over the face and how smoothly they glide on the skin. I love how they also lend themselves to being swirled and buffed on the skin even though they have a paddle shape/flat-round ferrule. Fox hair is unexpectedly such a versatile hair and I'm looking forward to seeing more shapes and bristle lengths come out in the future.While I love the F0-1, F0-3, and F0-4- they are similar enough in shape (even with the angle on the F0-4) that they end up performing similar roles for me. I do however love having them all in my collection so I can plop one in rotation along with some of my other squirrel and fox hair brushes so I can extend time in between washings. The F0-1 and F0-3 are the most similar in shape and density, the F0-1 is just of course bigger and longer. I mainly use the F0-1 for bronzing and all over face setting. Can be used for blush too, however, because of its size there's just not a lot of precision for blush- more for a slap it on and walk away kind of day. F0-3 I think is the more versatile size out of the two. Because of how fluffy and plush the hair gets, it can certainly be used for setting all over the face and for bronzing- but it is also small enough to be more targeted for blush. For both the F0-1 and F0-3, if turned on their side, you can certainly get into the corners of your eyes and other precise areas because of how well the hair squishes into areas of your face.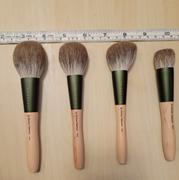 01/21/2022
Anh N.

Canada
Powder
Wonderfully soft. Leave skin looking flawless
12/29/2021
Jennifer S.

Philippines
12/24/2021
gagafude

Australia
FO-1
Ok so I probably do not need another powder brush but I just have to have them all! This series is just so plush and such a pleasure to ran through my face! I love it!
12/19/2021
Irene F.

United Kingdom
Very soft...
This enhances my make-up experience - an absolutely treat! It is very soft, delicate. Power of silver fox! I look forward to applying my make up since I've this. For many years I struggle to find a brush that I love. I hesitated a bit by its price but it is so worth it. It can keep my make up for a whole day - that I don't need to re-apply powder in the afternoon again. Also the shippment to UK was smooth.