FREE shipping worldwide for orders $300+ (USD)
Chikuhodo's exclusive 2021 release is limited to 300 sets. The Soiree set contains 3 brushes finished in Yamanaka makie lacquer, a beautiful gradation designed with the evocative, moody image of evening just after dark. 
Together with the 5-piece 2021 Collection Orb (Aube) set (also limited), the brushes will be a full line of 8 premium makeup brushes. 

Details
Powder Brush
Bristle material: Saikoho goat
Bristle shape: Slanted
Brush length: 155mm
Bristle length: 40mm
Eyeshadow Brush
Bristle material: Sokoho goat
Bristle shape: Round-flat
Brush length: 131mm
Bristle length: 16mm
Eyeshadow Brush 
Bristle material: Saikoho goat
Bristle shape: Round-flat
Brush length: 122mm
Bristle length: 7mm
Please note, as of 1 March 2022, we are currently unable to ship to Russia, Belarus and Ukraine, and EMS services have been temporarily suspended for all of Europe.
FREE Shipping offer
Purchases of $300+ USD receive FREE worldwide shipping.


Shipping for orders under $300 USD
USA, Canada, Europe (excl. Russia): $25 (FedEx, EMS), $30 (DHL)
Asia: $15 (EMS), $20 (DHL/FedEx)
Oceania: $20 (FedEx, EMS), $25 (DHL)
Mexico, South and Central America: $40 (DHL/FedEx)
Middle East: $25 (EMS), $40 (DHL)
All other regions: $40 (DHL/FedEx)
DHL/FedEx vs EMS 
DHL/FedEx do not ship to bases or PO Boxes
DHL/FedEx are typically faster shipping than EMS, but may result in higher taxes and duties fees (you can find more on Taxes and Duties below)
Domestic shipping fees
Please note, product purchased within Japan are subject to a 10% consumption tax.
Under $100: 1,080 yen (tax included) via Sagawa
Over $100: FREE via Japan Post, $30 via EMS


TAXES & DUTIES 
You may be subject to import taxes and duties on delivery, depending on the country. These fees are not included in Fude Beauty product prices or shipping charges, so please be sure to find out the policy for the country you are shipping to. While these fees are not reimbursed by Fude Beauty, we can provide a discount for future purchases. If you are charged taxes or duties fees, please contact us via our Contact page or by email at support@fudebeauty.com with your the receipt of your fees.


For more details, please see:
LEARN MORE ABOUT JAPANESE FUDE
Customer Reviews
01/23/2021
Oksana

United States
Nice set!
They are beautiful and soft! Will get good use of the first two but not sure of the smallest one. Will have to play around with it more.
12/21/2020
Oksana

United States
Nice!
I wasn't sure what to expect when ordering this set based on pictures but I was pleasantly surprised. I like all brushes and they are very soft. The only brush I am not sure about is the smallest one. Not really sure how much use I will get out of it since it is so soft.
12/09/2020
Oksana

United States
Nice!
I took a chance on this set based on a picture and I was pleasantly pleased. I like the blue handles and overall they are beautiful. I like how soft they are and perform well especially the angled brush. The only one I am a bit disappointed with is the smallest brush. Not quite sure what I'll use it for. It seems too soft to smudge eyeliner. I need to play around with it more. Overall, I am happy with this purchase.
12/08/2020
Edmundo T.

Philippines
Beautiful Brush Set
Thank you so much Fude Beauty for a wonderful experience with you. This was my first purchase from your wonderful establishment, not to mention my very first brush from Chikuhodo and it has made a mark. I appreciate the letter of welcome to this community. I initially thought that this set was a bit pricey for a 3-piece collection BUT upon understanding that this is made of Saikoho hair and the handles were made through Yamnaka Urishi - I was surprised it wasn't priced more. The brushes are exquisite. The hairs on each brush is very soft to the touch. The bellys of the brush head are full, so it offers stability and strength despite the softness of the hair. The big angled brush is perfect to use for contouring, bronzing or highlighting - a multi use brush is always a "thumbs up" in my book. I was at first skeptical of the triangular shaped eye shadow brush, but after seeing it for my self - I use this to set powder on the under eye area or by the sides of the nose. The smudger brush is great for that - smudging. I love the handles of this brush - it reminds me of twilight. The gradation of the colors from black to deep blue can be very tricky to discern - but that is the magic of it. The delivery of this brush was timely. I was so surprised it arrived so quickly in my house. Looking forward to my next purchase.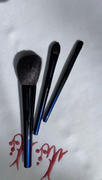 12/05/2020
T T.

United States
Very nice brush
I really like the new holiday brush set. It has nice blue handle lacker. The shape of the contour brush is just like the fox fo3 that I love for contouring face.