FREE shipping worldwide for orders $300+ (USD)
A limited-edition set from Koyudo. Also available in red. View the whole Koyudo Raden Series. The intricate cherry blossom design glimmers in the light. Bristles are made with high-grade Kolinsky hair, giving them an exceptional standard of soft, silky luxury. 
Details 
Brush length: 143mm
Bristle length: 18mm 
Bristle width: 9mm 
Bristle material: Kolinsky

These brushes may take up to 2 weeks to ship as they are handmade to order.

To evoke a feeling of traditional Japan, the handle is embellished with sakura (cherry blossoms, Japan's national flower) using the raden decorative technique. Raden is a traditional mother-of-pearl inlay technique used in Toyama Prefecture. The iridescent, rainbow-colored nacreous layer inside the shell is embedded into a carved surface of lacquer or wood.

Please note, as of 1 March 2022, we are currently unable to ship to Russia, Belarus and Ukraine, and EMS services have been temporarily suspended for all of Europe.
FREE Shipping offer
Purchases of $300+ USD receive FREE worldwide shipping.


Shipping for orders under $300 USD
USA, Canada, Europe (excl. Russia): $25 (FedEx, EMS), $30 (DHL)
Asia: $15 (EMS), $20 (DHL/FedEx)
Oceania: $20 (FedEx, EMS), $25 (DHL)
Mexico, South and Central America: $40 (DHL/FedEx)
Middle East: $25 (EMS), $40 (DHL)
All other regions: $40 (DHL/FedEx)
DHL/FedEx vs EMS 
DHL/FedEx do not ship to bases or PO Boxes
DHL/FedEx are typically faster shipping than EMS, but may result in higher taxes and duties fees (you can find more on Taxes and Duties below)
Domestic shipping fees
Please note, product purchased within Japan are subject to a 10% consumption tax.
Under $100: 1,080 yen (tax included) via Sagawa
Over $100: FREE via Japan Post, $30 via EMS


TAXES & DUTIES 
You may be subject to import taxes and duties on delivery, depending on the country. These fees are not included in Fude Beauty product prices or shipping charges, so please be sure to find out the policy for the country you are shipping to. While these fees are not reimbursed by Fude Beauty, we can provide a discount for future purchases. If you are charged taxes or duties fees, please contact us via our Contact page or by email at support@fudebeauty.com with your the receipt of your fees.


For more details, please see:
LEARN MORE ABOUT JAPANESE FUDE
Customer Reviews
07/31/2021
Beatriz

United States
Softer kolinsky brushes I own
The Koyudo Raden series has the softest kolinsky brushes I have. The medium size is perfect for outer corner and lower lash application. The diameter is similar to the Hakuhodo S141, but bristle are shorter, what makes it not as stiff and perfect to the lower lash.
07/31/2021
Beatriz

United States
A must have if you like large round brushes
I just love this brush. It is super beautiful, soft and useful. I would recommend to anybody that is into bullet type bushes. Shape is very similar to the Yoshiki large brush, but a little longer. Another brush that is similar (but not as versatile) is the Hakuhodo G5524. It is perfect for the application of cream eyeshadows in the outer corner, blending of cream eyeshadows and decent shimmer application if you prefer round brushes.
07/16/2021
EHTW

Taiwan
06/12/2021
Brush M.

France
Very pretty!
I had purchased the large kolinsky brush in red so I wanted a gold version for the eye brush. It's my first eye brush all in gold with makie prints. The brush itself blends eyeshadows super well and is a well-rounded brush. Bit on the pricey side for an eye brush but if you can afford it go for it. You won't regret it!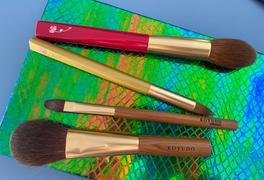 05/19/2021
KY

United Kingdom
So worth it
The L eye brush is so versatile. It can be used for all over colour, blending or even outer V. It's on the expensive side, but I think it's worth it.