FREE Shipping for orders ¥40,000+ Worldwide
A limited-edition set from Koyudo. The intricate cherry blossom design glimmers in the light. Bristles are made with high-grade Kolinsky hair, giving them an exceptional standard of soft, silky luxury. 
Details 
Brush length: 143mm
Bristle length: 18mm 
Bristle width: 9mm 
Bristle material: Kolinsky

These brushes may take up to 2 weeks to ship as they are handmade to order.
To evoke a feeling of traditional Japan, the handle is embellished with sakura (cherry blossoms, Japan's national flower) using the raden decorative technique. Raden is a traditional mother-of-pearl inlay technique used in Toyama Prefecture. The iridescent, rainbow-colored nacreous layer inside the shell is embedded into a carved surface of lacquer or wood.

FREE SHIPPING OFFER
Purchases of ¥40,000+ receive FREE worldwide shipping.
ORDERS UNDER ¥40,000
• Asia from ¥1,600
• Oceania from ¥3,050
• North America, Canada & Mexico from ¥2,400
• Europe from ¥2,800
• Middle East from ¥3,250
• All other countries ¥3,700
Please note:
• Customers in Russia will need a business address to ship to.
• If a customer is in a remote location that requires extra shipping fees to be paid by Fude Beauty to DHL/FedEx/UPS, then these fees will need to be covered by the customer. 
DHL/FedEx/UPS vs EMS
• DHL/FedEx/UPS do not ship to bases or PO Boxes
• DHL/FedEx/UPS are typically faster shipping than EMS, but may result in higher taxes and duties fees (you can find more on Taxes and Duties below)
TAXES & DUTIES
You may be subject to import taxes and duties on delivery, depending on the country. While these fees are not reimbursed by Fude Beauty, we can provide a discount for future purchases if the taxes you incur on one purchase exceed ¥3,000. If you are charged taxes or duties fees, please contact us via our Contact page or by email at support@fudebeauty.com with your the receipt of your fees. 
Domestic shipping fees
Under ¥15,000: ¥1,080 (via Sagawa)
Over ¥15,000: FREE (via EMS) 
For more details, please see:
Orders & Shipping
Returns & Exchanges
LEARN MORE ABOUT JAPANESE FUDE
Customer Reviews
Write a Review
Ask a Question
08/04/2022
Ana H.

Canada
Beautiful brush!
This is a beautiful brush to use. The kolinsky hairs are lovely, and the brush is well balanced and places shadow perfectly. The sakura inlay is exquisite. Highly recommend!
03/10/2022
KY

United Kingdom
Best eye brush ever
Love this so much as a multitask eye brush. You can finish your eye look just using this! Vintage kolinsky bristles are so soft like no other kolinsky I've tried before.
02/02/2022
Elena

Romania
A beauty!
One of the most beautiful brushes! Very eye catching! Aside that, I love the size, perfect for the eye hollow. Deposits the colors in one touch and blends very well. Very happy with this purchase.
02/19/2021
Cynthia C.

United States
In a league of its own!
This brush has truly surpassed my expectations of what I thought this brush could offer. I was able to complete an entire eye look with this brush. The way it blends and lays down product was perfection for me. I only wish I could complete the entire set with the remaining eye brushes. Thank you as always FB for your amazing shipping.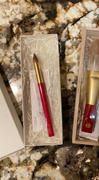 02/19/2021
Cynthia C.

United States
In a league of its own!
The large eye brush has surpassed my expectations of what I thought this brush could offer. I've used it in a complete eye look. The way it blends and lay down product was perfection. I only wish I could complete the set with the other two eye brushes. So happy with this purchase. Thank you FB!