FREE shipping worldwide for orders $300+ (USD)
A limited-edition set from Koyudo. The intricate cherry blossom design glimmers in the light. Bristles are made with high-grade Kolinsky hair, giving them an exceptional standard of soft, silky luxury. 
Details 
Brush length: 143mm
Bristle length: 18mm 
Bristle width: 9mm 
Bristle material: Kolinsky

These brushes may take up to 2 weeks to ship as they are handmade to order.
To evoke a feeling of traditional Japan, the handle is embellished with sakura (cherry blossoms, Japan's national flower) using the raden decorative technique. Raden is a traditional mother-of-pearl inlay technique used in Toyama Prefecture. The iridescent, rainbow-colored nacreous layer inside the shell is embedded into a carved surface of lacquer or wood.

Please note, as of 1 March 2022, we are currently unable to ship to Russia, Belarus and Ukraine, and EMS services have been temporarily suspended for all of Europe.
FREE Shipping offer
Purchases of $300+ USD receive FREE worldwide shipping.


Shipping for orders under $300 USD
USA, Canada, Europe (excl. Russia): $25 (FedEx, EMS), $30 (DHL)
Asia: $15 (EMS), $20 (DHL/FedEx)
Oceania: $20 (FedEx, EMS), $25 (DHL)
Mexico, South and Central America: $40 (DHL/FedEx)
Middle East: $25 (EMS), $40 (DHL)
All other regions: $40 (DHL/FedEx)
DHL/FedEx vs EMS 
DHL/FedEx do not ship to bases or PO Boxes
DHL/FedEx are typically faster shipping than EMS, but may result in higher taxes and duties fees (you can find more on Taxes and Duties below)
Domestic shipping fees
Please note, product purchased within Japan are subject to a 10% consumption tax.
Under $100: 1,080 yen (tax included) via Sagawa
Over $100: FREE via Japan Post, $30 via EMS


TAXES & DUTIES 
You may be subject to import taxes and duties on delivery, depending on the country. These fees are not included in Fude Beauty product prices or shipping charges, so please be sure to find out the policy for the country you are shipping to. While these fees are not reimbursed by Fude Beauty, we can provide a discount for future purchases. If you are charged taxes or duties fees, please contact us via our Contact page or by email at support@fudebeauty.com with your the receipt of your fees.


For more details, please see:
LEARN MORE ABOUT JAPANESE FUDE
Customer Reviews
02/02/2022
Elena

Romania
A beauty!
One of the most beautiful brushes! Very eye catching! Aside that, I love the size, perfect for the eye hollow. Deposits the colors in one touch and blends very well. Very happy with this purchase.
02/19/2021
Cynthia C.

United States
In a league of its own!
This brush has truly surpassed my expectations of what I thought this brush could offer. I was able to complete an entire eye look with this brush. The way it blends and lays down product was perfection for me. I only wish I could complete the entire set with the remaining eye brushes. Thank you as always FB for your amazing shipping.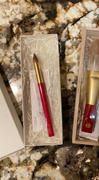 02/19/2021
Cynthia C.

United States
In a league of its own!
The large eye brush has surpassed my expectations of what I thought this brush could offer. I've used it in a complete eye look. The way it blends and lay down product was perfection. I only wish I could complete the set with the other two eye brushes. So happy with this purchase. Thank you FB!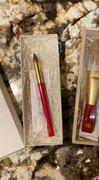 01/31/2021
Jessy o.

United States
Fave eyeshadow brush
This will be my favorite eyeshadow brush from now on. Love the Aesthetics and I think I'm in love with Kolinsky hair. I just hope it's not that pricey. Please Koyudo make more brushes like this collection. Thank you for fudebeauty CS for always attending to my queries. Keep it up!!
12/24/2020
ChuChu C.

Australia
Gorgeous and practical
The handle is so gorgeous and the kolinsky hair feels very high quality and is densely packed. I think it's totally worth the money since this type of brush will last a very long time as long as you take care of it. It could be a workhorse brush really. Highly recommend to anyone with the budget!